Just like exercise or fitness programs, I experiment with food, nutrition and dietary styles. I enjoy food; I love cooking & baking; experimenting with different ways to prepare food.
I keep a busy schedule so on work days I bring lunch & snacks with me plus a pre/post workout meal since I go to the gym right after work. I also started bringing breakfast with me too since mornings suck and I sleep until the last possible moment lol. Finding the most efficient ways to get the most amount of nutrients is key. This includes smoothies, and soups or chilies; quick & portable meals.
I have food intolerances (dairy/lactose and gluten) making the option of ordering out or delivery difficult (not to mention expensive), meaning I need to keep on top of meal planning and preparation. I also eat a primarily vegetarian based diet with some meals being vegan but on occasion I'll consume fish (salmon, tuna, and sushi). Variables such as money, access to food (fresh produce) and time for meal planning/prep and cooking play a big role too.
Nutrition with regards to health and wellness can be as subjective as fitness is. The variables previously mentioned as well as work life, age, sex, daily commute, recreational activities, basal metabolic rate, type and duration of workouts. My dietary needs will look different from some one else's. Your workout goals will also determine dietary needs and goals. Someone trying to loose fat mass is going to have different needs than someone trying to gain muscle mass. Let's take a look at what's involved in our nutrition and diets.
Table of Contents:
Essential and Nonessential Nutrient

Macronutrients

Carbohydrates
Proteins
Fats

Micronutrients

Vitamins – water and fat soluble
Minerals – electrolytes and trace
Water

Fiber
Cholesterol
Prebiotics and Probiotics
Caffeine
Legend Key:
DV = daily value,
DI = daily intake,
DRI =Dietary Reference Intakes,
RDA = Recommended Dietary Allowance,
AI = Adequate Intake,
g= grams,
µg, ug or mcg = micrograms,
mg = milligrams,
ml or mL = milliliter,
BW = bodyweight
Components of Nutrition:
First up…
Macronutrients are nutrients our body needs in large amounts; they provide our bodies with energy (calories).
Carbohydrates -> Glucose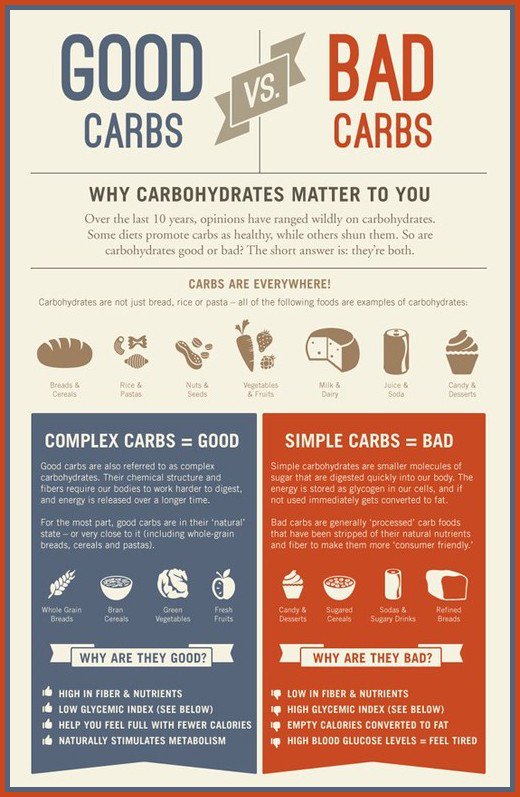 Roles: provide fuel during high intensity exercise; spares protein (to preserve muscle mass during exercise); provides fuel for the Central Nervous System namely you brain.
[1g of carbohydrate = 4 Calories]
DI:
Sedentary Individuals:
40-50% of total daily calories should = carbohydrates.
Exercises Regularly
: 60%.
Athletes
or persons involved in heavy training
: 70% (3.5-4.5g of carbs/lb. of BW).
Proteins -> Amino Acids 
The body needs to consume proteins with enough essential amino acids to synthesize the non-essential amino acids. Amino acids are our building blocks. A complete protein is comprised of 20 amino acids; 9 essential and 11 non-essential.
Roles: precursors for amino acids, tissue structure (organ tissues, muscle, hair, skin, nails, bones, tendons, ligaments & blood plasma); part of cell plasma membranes; metabolic, transport, & hormone systems; make up enzymes that regulate metabolism; acid/base balance maintain neutral environment.
[1g of protein = 4 Calories]
DI: Sedentary: 0.36g/lb BW. Recreational Athlete: 0.45-0.68g/lb BW. Competitive Athlete: 0.54-0.82g/lb BW. Teen Athlete: 0.82-0.91g /lb BW. Body Builder: 0.64-0.91g/lb BW. Restricting Cal: 0.364-0.91g/lb BW. Max body can utilize: 0.91g/lb BW.
Fats -> Lipids
Essentials: 
Linolenic acid (ALA), an omega-3 fatty acid – Found in fish, flaxseeds and walnuts
Linoleic acid (LA), an omega-6 fatty acid – Found in nuts, most vegetable oils and some whole grains
Roles: energy reservation, protects vital organs, insulation and transports fat soluble vitamins.
[1g of fat = 9 Calories]
DI: 20-35% of your total daily calories should = fat, <10%  should = Saturated Fat (coconut & palm kernel oil, shortening, butter, cream cheese, full fat dairy products). Sources: Oils, nuts, seeds, meat, fish, dairy; micronutrients.
Next up…
Micronutrients are nutrients the body needs in smaller amounts; they enable the body to produce enzymes, hormones and other substances essential for proper growth and development.
Vitamins
Most vitamins are essential, but a couple are made in the body. Ex: Vitamin D is synthesized via skin cells using sunlight. Biotin is another that is not essential because it's made in your intestines by gastrointestinal bacteria. Other vitamins, like K, are made in the body but still need additional daily recommendations for intake.
Vitamin A (beta-carotene, retinol)
Vitamin B1 (thiamin)
Vitamin B2 (riboflavin)
Vitamin B3 (niacin)
Vitamin B5 (pantothenic acid)
Vitamin B6 (pyridoxine)
Vitamin B7 (biotin)
Vitamin B9 (folic acid/ folate)
Vitamin B12 (cobalamin)
Vitamin C (ascorbic acid)
Vitamin D (ergocalciferol D2, cholecalciferol D3)
Vitamin E (tocopherol)
Vitamin K (naphthoquinoids)
Water Soluble: 
Fat Soluble:

Electrolytes and Trace Elements are the 2 main groups of minerals. Electrolytes are needed in larger quantities than trace elements.
Electrolytes:
Calcium (Ca) – Functions: maintains teeth & bones, helps clot blood, and helps nerves & muscles function. DV: 1000mg Sources: dairy milk & fortified non-dairy milks, dark green vegetables, sardines, clams, oysters, legumes, and almonds.
Chloride (Cl) – Functions: balances fluids, essential role in production of digestive juices in the stomach. DV: 1800-2300mg; 3400mg in Cl form. Sources: sodium chloride = table salt
Magnesium (Mg) – Functions: supports 300+ biochemical reactions, muscle and nerve function; keeps heart beating regularly; builds strong bones & boosts immunity; important for enzyme-catalyzed reactions; keeps kidneys, heart and brain healthy. DV: 350mg Sources: Beans, nuts, whole grains, leafy green vegetables, nuts, soybeans, legumes, bran cereals and seeds (pumpkin, sunflower & flaxseeds).
Phosphorus (P) – Functions: helps build strong bones & teeth, produces proteins body needs & repairs cells; helps cells function and make energy. DV: 700mg Sources: mushrooms, meat, poultry, eggs, legumes, nuts & dairy products.
Potassium (K) – Functions: regulates water balance in cells, helps nerves function, and is important for heart rhythm. DV: 3500mg Sources: oranges, bananas, cereal, potatoes, and dried beans.
Sodium (Na) – Functions: regulates water balance and stimulates nerves. DV: 2400mg Sources: table salt, bread; almost everything
Trace Elements:
Chromium (Cr) – Functions: known to enhance action of insulin. DV: 120μg Sources: broccoli, potatoes, garlic, basil, meat, whole grains, apples, bananas, and green beans.
Cobalt (Co) – Functions: major role in the process of erythropoiesis (erythrocytes or RBCs are produced). DV: 3-5μg Sources: meat, milk, green leafy vegetables, liver, clams and oysters.
Copper (Cu) – Functions: aids in iron absorption and works with iron to help form RBCs, also helps keep blood vessels, nerves, immune system, & bones healthy. DV: 2mg Sources: beef liver, sunflower seeds, lentils, almonds, dried apricots, dark chocolate, blackstrap molasses, asparagus, mushrooms, and turnip greens.
Iodine (I) – Functions: production of thyroid hormones; healthy skin, hair & nails. DV: 150 μg Sources: fresh seafood, kelp, iodized salt, Swiss chard, spinach, turnip greens and summer squash.
Iron (Fe) – Functions: forms blood cells and transports oxygen throughout the body. DV: 15mg Sources: Dark green vegetables, whole-grain cereals, whole grains (brown rice & quinoa), legumes, lentils, nuts, seeds, dried fruits, and animal proteins.
Manganese (Mn) – Functions: combines with other minerals & promotes a healthy immune system; useful in producing sex hormones, blood clotting and for healthy skin, nails and hair. DV: 5mg Sources: Green leafy vegetables, avocados, blueberries, pineapples, kelp, green tea, eggs, fresh beetroot and wheatgerm.
Molybdenum (Mo) – Function: to act as a catalyst for enzymes & help facilitate the breakdown of certain amino acids in the body; combines with sulfite oxidase to catalyze sulfur-containing amino acids that are crucial for human health. DV: 75μg Sources: beans, lentils and peas as well as cereals and leafy vegetables; liver (but animal products are generally poor sources).
Selenium (Se) – Functions: anti-oxidant; vital for proper functioning immune system and thyroid gland; protects cells from damage. DV: 35μg Sources: organ meats, seafood, dairy, brewer's yeast, butter, sesame seeds, garlic and Brazil nuts to boost content.
Zinc (Zn) – Functions: aids in transportation of carbon dioxide and healing wounds; forms enzymes. DV: 15mg Sources: whole grains, dairy milk & fortified non-dairy milks, and legumes.
Water, while not a 'nutrient,' almost all bodily processes require a watery environment.
Functions: moistens tissues (ex: mouth, eyes, and nose), protects body organs & tissues, helps prevent constipation & dissolve minerals & other nutrients to make accessible to body, regulates body temperature, lubricates joints, lessens burden on the kidneys & liver by flushing out wastes, and carries nutrients & oxygen to cells.
Dietary Fiber is essential for health; not absorbed by the human digestive tract but assists digestion and helps remove toxins and wastes. There are 2 types: soluble and insoluble; both are important for health, digestion, and preventing diseases.
Soluble – attracts water and turns to gel during digestion, which slows digestion.
Insoluble – adds bulk to the stool and can help food pass more quickly through the stomach and intestines.
Cholesterol is a waxy, fat-like substance found in all cells of the body and is needed for body processes. Your liver makes all the cholesterol you need, 800mg per day (making it non essential) but you can get some from foods (dietary cholesterol).
Functions: make hormones, vitamin D, and substances that help you digest foods.
DV: a density level of 50-200 mg per 100 ml of blood = optimal; consumption of 200-300 mg per day or 1 egg yolk is more than enough
Probiotics vs Prebiotics: 
Caffeine:
Function: acts as a central nervous system stimulant. When it reaches your brain, the most noticeable effect is alertness. DV: Up to 400mg appears to be safe for most healthy adults
Sources:
Caffeine is known to have ergogenic benefits and can improve physical performance during endurance exercise.
"The European Food Safety Authority (EFSA) recognized that a cause and effect relationship has been established for caffeine intake and increased endurance performance and endurance capacity (in both cases for 3 mg/kg body weight 1 hour before exercise), and reduction in perceived exertion (4 mg/kg body weight 1 hour before exercise)."
The effects of caffeine on short-term high intensity exercise remain inconclusive.
I got all this information from medical and scientific journals, articles and dietary regulation websites through a google search 😀 and as you can see it's a lot of information to process. Things like the recommended daily values have changed over time, making keeping up with guidelines tricky sometimes. It's helpful to keep up with things like this and adjust accordingly with your personal variables and goals.
I found, what works best for me, is having about 5-6 small meals throughout my day (breakfast, morning snack, lunch, afternoon snack, pre/post workout meal, dinner). I drink about 60-76oz of water daily (based on my weight and how many cups of tea or coffee I have). I usually have 1-2 (12oz) cups of tea almost daily and 1-2 (4-6oz) cups of coffee weekly. I will also drink the same amount of water as how ever many oz of coffee I drink to balance hydration since caffeine/coffee can dehydrate you. I also try to include all macros and micros in every meal. Sometimes it shakes out that my breakfast/lunch/dinner meals have all my macros and some micros while my snacks/workout meals tend to have more micros. As mentioned earlier, I eat primarily a vegetarian based diet with some meals being vegan based & on occasion I'll enjoy a salmon or tuna dish or even sushi. This gives me a pretty balanced amount of food sources, as long as I'm able to get to the grocery store and not have to rely on a Family Dollar or something that doesn't have fresh foods.
My daily caloric intake varies based on what my exercise goals are; when trying to loose weight (fat mass) I consume less overall calories but I pay attention to what type of calories I'm consuming. When I'm training for something like a marathon or if I'm weight lifting more, my calorie intake will often increase and the amount of macros changes.
Currently I am participating in a 12-week study for weight loss intervention with the 23andMe team to see how DNA/genetics affects things like weight loss, diet etc.. I was placed in the study group that is to add or increase their fiber intake, decrease fat intake from animal sources, and continue (or increase) physical activity. We check in at lease once a week with our progress via surveys and about once a week the 23andMe team has a webinar with a trainer or scientist etc.. I'm going into the fourth week, we'll see how things conclude. 😀