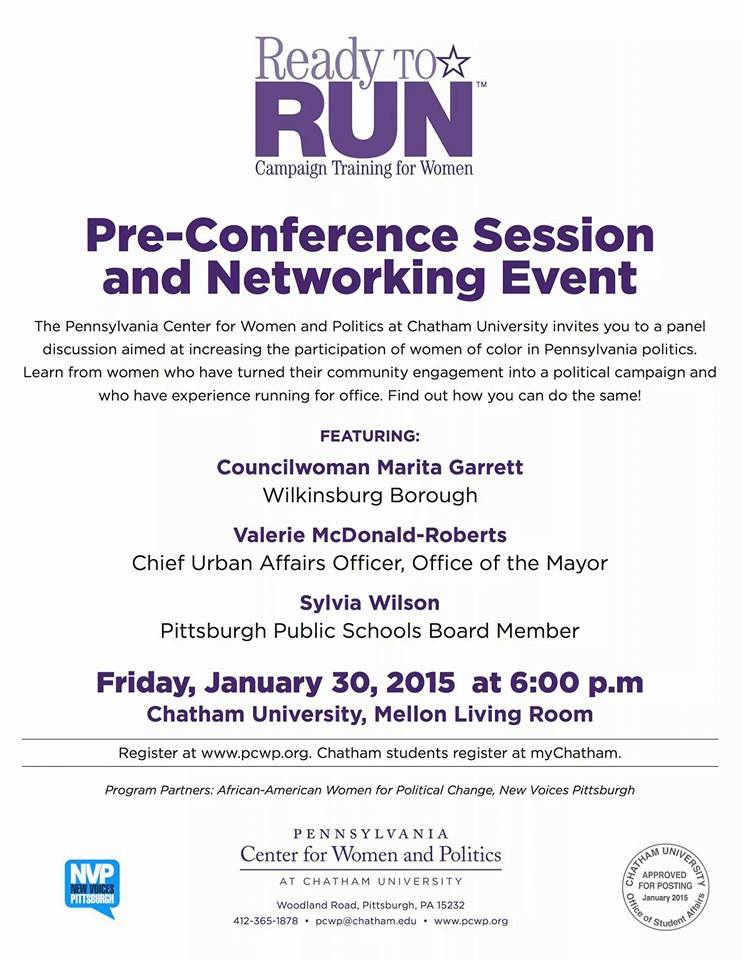 Last weekend I attended a couple of events, one on Friday: Pre-conference Women of Color in PA Politics, the other on Saturday: Ready to Run – Campaign Training for Women.
The pre-conference was really amazing and it was really incredible to hear from some amazing women how are making positive changes in our lives.
Here's a little bit about the cool ladies who were on the panel sharing a little bit about their experiences and some advice they gave:
First up was our moderator: Valerie McDonald-Roberts
Article: McDonald Roberts picked to 'fill in gaps' in Pittsburgh's urban management
Office
of Mayor William Peduto
Now a word from our Panelists:
Article: Welcome Back – Pittsburgh immigrants find comfort in the city
Borough of Wilkinsburg Councilwoman, Ward 1
Rising African-American leaders honored at Sankofa Homecoming 2014
Meet the City Council of McKeesport
Article: McKeesport councilwoman shares life's lessons during Black History Month talk
Sylvia C. Wilson – the current elected School Director for District #1 on the Pittsburgh Public School Board.
She served as Assistant to the President of the Pittsburgh Federation of Teachers (PFT) for 14 years and as Secretary of the Executive Board beginning in '79.
She serves on the ALCOSAN board as a joint city-council appointee.